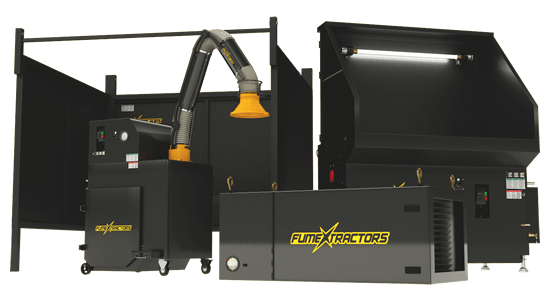 Who We Are
FumeXtractors was developed to combat the welding fume challenges that machine operators are faced with daily. Our weld fume extraction systems are built to accommodate a full range of applications including, but not limited to, welding, grinding and deburring, plasma and laser cutting, and more. We also offer solutions for applications where explosive dust is present.
Flexibility is key to the comfort of machine operators and FumeXtractors systems provide smooth articulation to easily move around work projects, and out of the way when not needed. Our line of fume arms, downdraft tables, welding booths, portable fume extractors, and more, meet regulatory guidelines, are easy to use, and are powerful enough to provide surgical-grade clean air.
Protect your work environment with a solution from FumeXtractors! The FumeXtractors team works directly with engineers, distributors, and general contractors to provide turn-key prices and customized fume extraction systems to fit their application demands.